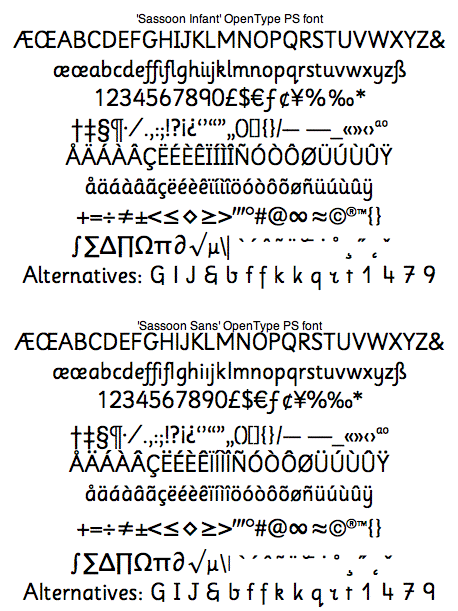 Copyright Dr. Rosemary Sassoon and Adrian Williams 1988-2011.
The default characters I, J, k, 9, in Infant fonts are designed for easy ligibility for early readers.
The default characters I, J, k, 9, in Sans fonts are designed for more accomplished or adult readers.
Default characters and many others can of course be changed with an alternative.
All other alternative letters and figures are the same in every font.
Please note: the application using the fonts (such as MS-Word) must be OpenType feature 'savvy' to take advantage of the alternatives built into the fonts. The feature is known as 'Stylistic Sets'.

See OpenType 'feature sets' page for instructions on how to activate the various Alternative letters.
| | | |
| --- | --- | --- |
| | | |
| | OT | |
| | | |
Sassoon® font - sample alphabets